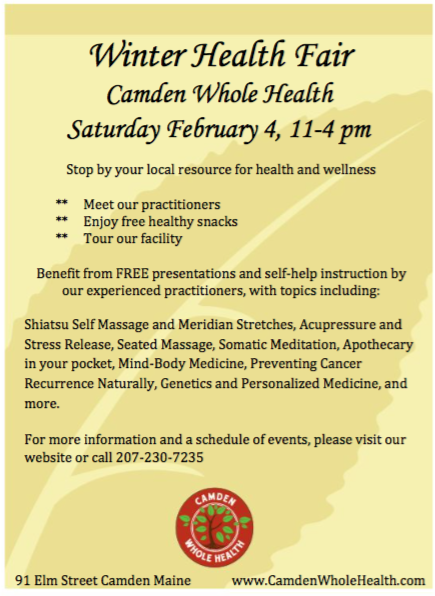 Here is the line up of Practitioner Talks at CWH Winter Wellness Fair
*11:30- Learn seated massage techniques for every day benefit, Antje Roitzsch LMT, Shiatsu, and Phenomenal TouchTM Master
Practitioner and Instructor will show you how to incorporate massage into your daily life. During this talk you will learn both, to give and receive seated massage. These simple techniques will help you shed the stress of the day.
We will be using regular chairs and be dressed in comfortable clothing.
*Noon- Mind-Body Medicine, Barbara Davis, LCSW, and Alison
Faulkingham, MD, will present the fundamentals of Mind-Body Medicine and demonstrate how these fundamentals can play a central role in health and self- care. The techniques introduced in this lecture will be expanded upon in an upcoming group they are offering at Camden Whole Health this March.
*12:30-Shiatsu Self Massage and Meridian Stretches, Michele
DiGirolamo LMT, will demonstrate and instruct techniques useful in shiatsu self massage as well as guide you in meridian stretches you can implement in any daily practice.
*1:00-Acupressure and Stress Relief, Amy Jenner M.Ac, Dipl. OM, L.Ac, will teach techniques of acupressure for yourself and others that will help
promote relaxation.
*1:30-Somatic Meditation, Willow Hall, LMT, Holistic Health Coach, and Yoga Instructor, will give a brief introduction of Somatic Meditation and then guide participants through a series of simple exercises designed to improve our understanding of the impact of posture and breathing on our emotions. This
mini-workshop is appropriate for people of all abilities – no prior meditation experience needed.
*2:00-Personalized medicine-how genetics is leading the charge to individualize care, Dr. Deb Moskowitz, ND, Founder of Camden
Whole Health, Ever feel like your body doesn't respond quite the same way as others? Have sensitivities to medications? Diets that work for others aren't working for you? Recent advances in genomics is opening a whole new field of medicine- that which is tailored to the individual based on their unique genetic code in addition to environmental factors and current health status.
*2:30– note- this talk is canceled
An Apothecary in Your Pocket: 10 Essential Homeopathic Remedies for Daily Life, Kelly Callahan CCH, Concentric Healing
Homeopathy, will introduce the basic principles of homeopathic medicine, review 10 essential remedies, and answer your questions about this time-tested modality. Learn effective, natural and gentle treatment for: head injury, grief and shock, fever, headache, bumps bruises and injuries, tick bites and stings, hangovers, flu, and food poisoning. Kelly especially encourages those who have long been confused by homeopathy, or have tried with no results.
*3:00-Essential Oil origins and Safe Use, Nancy Lubin, Certified Aromatherapist, will explain where Essential Oils come from, how they differ from other "oils", and how to use them safely. She will discuss using dilution guidelines to determine what application methods are best for your desired outcome.
*3:30- Breast Cancer Research Review: Preventing Recurrence Naturally, Dr. Barbara MacDonald, ND, LAc, CranioSacral Therapist and the author of The Breast Cancer Companion: A
Complementary Care Manual, 3rd ed. will answer questions and share the latest research on lifestyle choices we can make to significantly reduce the risk of recurrence of breast cancer.